What is accessible or adaptive fashion?
It's clothing specifically designed for disabled people with limited mobility, it's underwear with side fastenings, it's fastenings which themselves are easier to operate with limited dexterity or strength, it's clothing designed for seated wearers and it's "accidentally accessible" clothes which happen to cater for any of those needs and more, even though they weren't a conscious consideration in the design process. Then, if you're willing to stretch the 'adaptive' definition a bit, you could even include clothing items which act as aids, such as compression socks. Though these would be coming from a place of support rather than access. I also failed to include visual impairments in the original text of this post! So that's not in the audio version but still applies in terms of adaptive clothing.
And… It's individual.

Sure, there are a range of adjustments and stylings which would be helpful for countless disabled people. We need more clothing lines considering us intentionally in the design process, we need more attractive accessible clothing, mobility aids and disability kit on a wider scale too. And just… Stuff that looks good sitting down (I swear most people sit down, right?). In some cases, any options would be an improvement, in other areas it's the range of choice and style which need improving. But I'm not the best person to chat to you about making the creative design industries more inclusive, because I don't have experience there. I'm not the best person to talk about some of the more obvious forms of adaptive clothing either, because I don't wear them. (Don't worry, I'll be including some links to people who do speak about those things at the end of this post).
However, I am qualified to talk about me.

Where has it been going wrong in my life?
I am somebody who's been known to enact that clichéd scene of standing/sitting/lying dramatically on the floor, by an enormous collection of half decent clothing, wailing "but I have nothing to wear!" 10 minutes before I'm supposed to be leaving the house (or, if we want to update the situation, attend a video meeting).
There are a lot of factors feeding into this, but one that went unnoticed until recently was inaccessibility.
I appreciate well fitted clothing, my body does not.
Belts and hard waistlines over a bloated stomach? Not great.
Underwire bras against sensitive ribs? Can't say they're friends.
Softer bralets resting against aching shoulders and a complaining back…? Even these don't work out every time.
I've cried with relief before now when taking off a high waisted skirt that was loose enough to tuck a jumper into. These clothes are okay some days, and okay when tried on for a few minutes in a mirror, or for a set of photographs. But other times? And for longer periods? I can't trust them with my aching bones.

There are other aspects to consider beyond physical pressure; the straight miniskirts much admired by teenage Sakara but abandoned because, seriously, who can sit down in those things? Itching labels, an inability to concentrate if my outfit is too 'fussy' (I'll be constantly awarene of those clip-on earrings, or that ruffle at my neck). Noisy fabric; cheap shoulder pads that rustle, wind cheaters that are louder than the wind itself… There's a need for softness and a general lack of interference with the way I experience the world. I have enough to deal with. Clothing needs to be assistive, not another obstacle.

What about accessories?
There are wheelchair-attachable bags on the market. I haven't properly explored them yet, but can foresee some problems (such as the person pushing me needing to loop their bag over the back handles of my chair, leaving no space for me to attach a bag in that area). Until recently, I used a massive chair with tall arm rests on either side of me. I could almost tuck a bag in beside me, depending on the size of it.
Now I have a smaller, more suitable chair on long-term loan from a friend and I'm reluctant to have a massive lump of bag perched on my lap while using it.

I complimented somebody on their outfit in a supermarket recently, and they responded by complimenting the bag on my lap. While it was a fab furry backpack and a fair compliment, my own insecurities left me feeling like that was all anybody could see. A small girl in a wheelchair with a big bag on her lap. I wanted to look cool like they did. Independent, capable, together. I don't feel like that in layers of loose-fitting clothes, sitting in a chair, being overtaken by a backpack.
The photos I've used in this post were actually taken that day, looking at them I don't quite see "me", everything's a bit too draped, a bit TOO colourful. But I do think it's cute. And I know it was practical.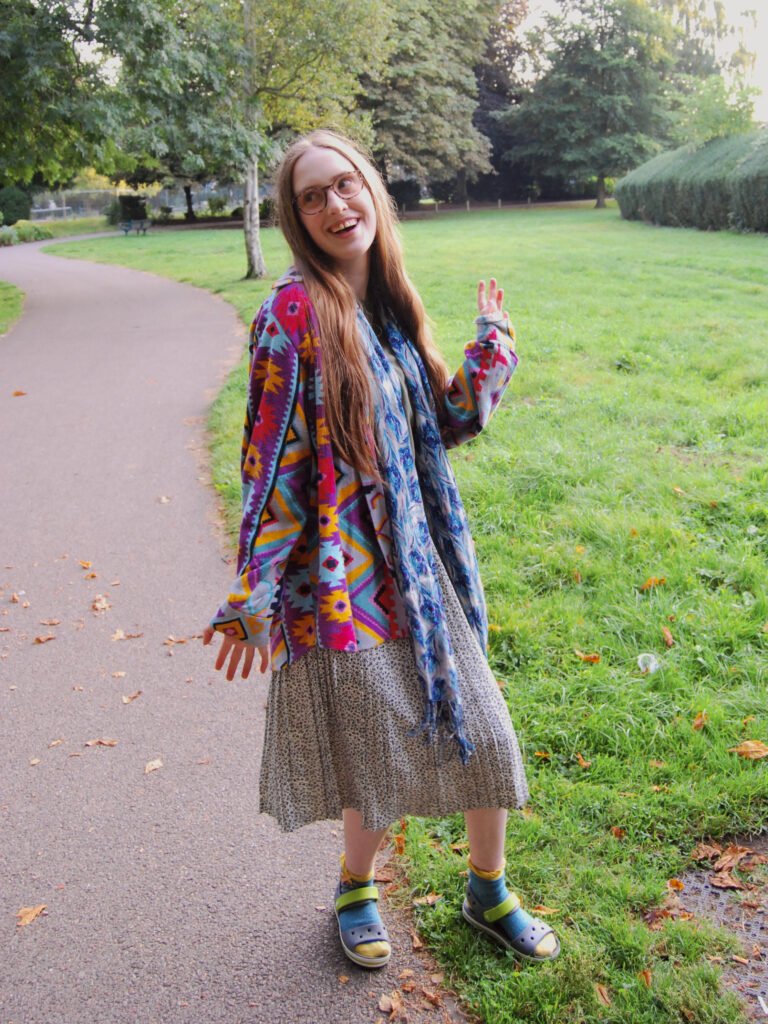 Why don't I feel like me, when I'm dressing in more accessible ways?
Style doesn't just materialise spontaneously; it's shaped by countless outside influences. It's not just the physical clothes which are inaccessible, it's the ideas of how I should look, of who I should be. The way I described myself in contrast to the person in the supermarket, me not being independent, me being a "small girl,". I was framing myself as a child, looking up at a young, independent adult.

Whenever I've associated disability acceptance with style in the past, it's been about being confident in public using a mobility aid, about finding out which skirts look good sitting down and wearing cool shoes so teenage me could joke about that being why people were staring at my legs. Now it's closer to home. It's about my body and my comfort, whether I leave the house or not. Then when I am confronted with other people, it's going to be about believing my place in this world as an adult is valid, however undefined my waist is, and wherever I put my bag.
It helps, now I've realised the gulf between my physical needs and ideal personal style is part of why I struggle to put an outfit together. I'm thinking of the styles I enjoy, asking "how can I adapt that?" and validating a need I've been belittling for years, without even realising it.

So, how am I adapting things?
It's nothing revolutionary, if you're reading this post you're probably already doing the things I'm doing (whichever ones help you, anyway).
I keep low waisted trousers for days when my stomach is sensitive,
I've realised that skirt waistbands can be worn looser sitting down without looking any different (especially if styled with a scarf or jumper),
And that the wheelchair will take the weight of a fuller skirt if I do want to wear one.
You can 100%. have "day pyjamas". I often feel like I'm getting out of one lot of pjs only to put on another, swapping a cotton set covered in stars and teddy bears for similarly shaped joggers and a t-shirt with a wolf on.
I've realised (belatedly) that there are different styles, shapes and colours of joggers and they're perfectly acceptable trousers to leave the house in (in most cases, anyway).
I know sometimes I drape myself in 2 necklaces, 3 layered tops and a full skirt because it distracts from the pain I'm in. And I know that's something I need to be aware of, so I can check in with myself and ask "is all this just going to get on my nerves in half an hour?" and "am I actually well enough to go out?".
I can recommend fuller miniskirts for sitting down in, the A-line shape is far more flexible than its straight cousin and flares a little when you sit, rather than purely hitching itself up above your underwear in a butt-strangling concertina.
I'm learning that there are soft things which fit. I'm small, most things don't fit me well and so I resort to massively oversized piles of clothing. While that's sometimes cosy, it can also make me feel laggy and even heavier than my fatigue already tells me I am. The answer to that isn't belting a baggy jumper. Because that belt will hurt, and the jumper will fold and dig in and bag out and annoy me. The answer is a middle ground of being patient, finding a jumper, top or coat that fits okay in the first place, without needing to be strangled at the waist with a tie or belt. (Even better when you happen to find 2 such tops at a jumble sale!!)

It's also connected to a lot of other emotional movement in my life, to deciding who I'd like to be and how I want to look, then making that work for me. And it's about the opposite too; letting go a little of the idea that what I wear is who I am, and believing that I'm a worthwhile human however I look. Because all this talk of wanting to be efficient and independent and like 'other people' in the way I dress is an easy metaphor for internalised ableism, for wanting to be how the world so often tells me I 'should' be, without any of these 'problems' to work around. Deciding how I want things is great, but it's the "making that work for me" part which really matters. Accepting my reality and accessing the things I like in soft, realistic forms is the way that I'll eventually find myself with outfits that are effortless, and which make me happy.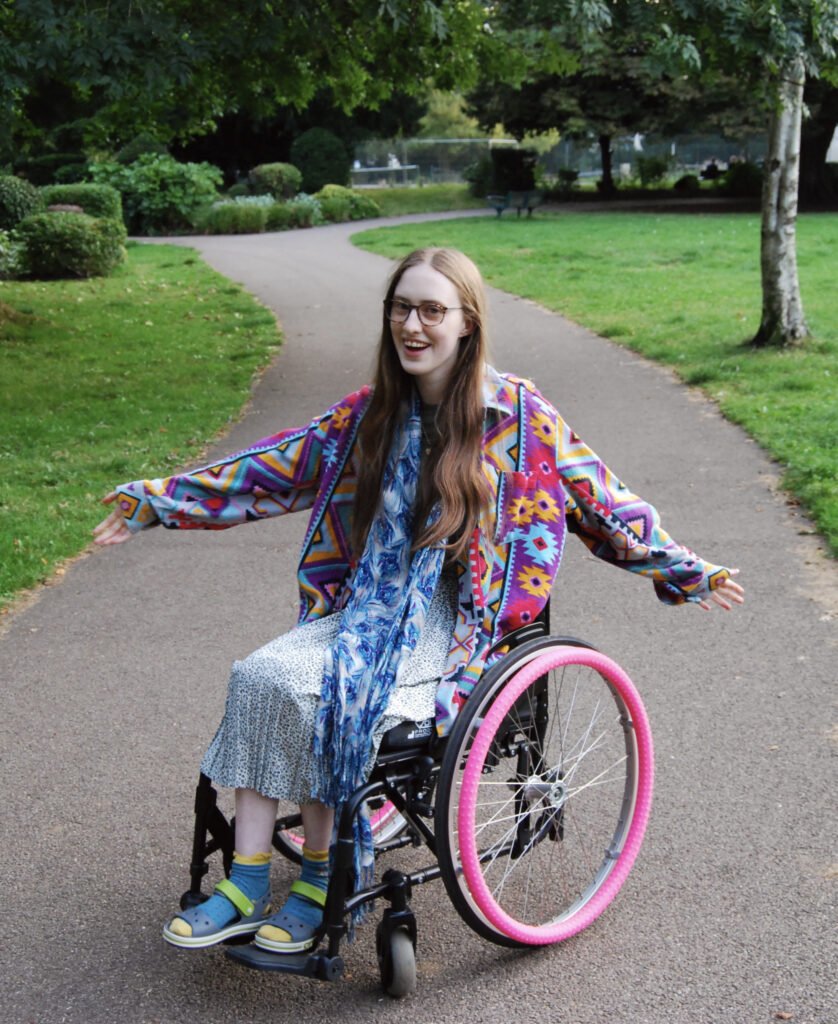 Is there anything I want to try soon?
Stockings: Tights are great to make skirts a viable alternative to trousers when you're someone who freezes easily. But they make me itchy if I wear them all day, and sometimes the waistbands can be unbearable. I want to try stockings – hopefully compression stockings! – and find out if these are any better on sensitive days.
Molkie bras: I was recently introduced to a brand called Molkie who stock more supportive non-underwire bralets in bigger cup sizes. I am trying one out at the moment but am not sure I have the right size. I'll keep you updated, it's still not something I could wear all night and day but for the balance between comfort and support is the best I've tried so far.

Bags: As I mentioned earlier, wheelchair attachable bags need to be explored for my new chair. They've never appealed to me before, mostly because they didn't look stylish enough and I loved bag shopping as a teen. Going out with a cute bag by my side helped my confidence and made short trips to garden centres with my parents feel special. However, now my life is full of other ideas and plans and I need my outfits to be more practical. I've got to get my head around wheelchair attachable bags not feeling like your typical fashion accessory. What's practical and neat on a chair hasn't been made trendy the way it would've if looped over a standing person's shoulder. But it can still work, if it's what works for me.
What does accessibility mean to me and my wardrobe?
Or rather: me, my storage boxes, chest of drawers and two clothing rails?
Unexpectedly, it means me accepting my disability all over again, not just the clothes I can or can't wear.

Often, as somebody with a fluctuating chronic illness, accessibility becomes a personal responsibility which I take on by controlling my immediate environment. I don't ask anybody to turn the lights down (even though I probably should), I make sure I've packed a cap and sunglasses. I don't expect venues to cater to my dietary requirements (again, they should), I bring a home-made snack in a little plastic box. These needs spill across my appearance; bigger bag for food and spare clothing, sun hats and caps indoors or in winter, layers of clothing and options for unpredictable turns in temperature or comfort. I carry my extra considerations with me and some days they weigh heavier than others. The days when I compare myself to an over-prepared child being packed off to school with enough sun cream for the whole class. Days when I'm overwhelmed by it, refuse to accept it and label all reasonable precautions as increased signs of anxiety. Why does having needs make me a child? Why is an anxious nature something I want to run (anxiously) away from? I need to accept my body the way it is, there's no magical fix, no outfit to stop the aching. No socks that will compress enough to prevent every fall.

It's also about the other days. Because yes, there are other days: the ones when I feel capable and at home with everything I need in a big bag of supplies, when I notice a few too many symptoms and have the right medication with me to soothe them. When I end up lending some of those extra layers out to cold friends and laughing at people who only usually wear black ending up in a multicoloured, cosy rainbow shirt. There's that moment when I realised my favourite skirt weighs less heavily on my waist when I'm sitting down, therefore making it perfect for wheelchair use. There's comfort in a cosy jumper as autumn rolls in. There's knowing what it is to feel at home in my body, because I've experienced so many forms of the opposite. There's having a connection to comfort, an awareness of what caring for myself really means, beyond the bubble baths that TV adverts try to reduce those sentiments down to. There's pride in figuring these things out. There's community and confusion and fear and boredom sometimes. Then there's support and a whole other way of experiencing the world. It's kinda magical. And totally exhausting.
Mostly though, there are a lot of days in joggers and jumpers. More still in pyjamas (and jumpers and fluffy socks and 2 quilts and 3 heat pads, depending on the time of year). Mostly I'm just another person with too many clothes, trying to muddle through.
What is accessible fashion to you?
Let me know.
-Sakara.

Links I promised at the beginning of this post:
(None of these people/organisations are connected to me or the writing of this blog post, they're just recommendations I've picked out if you're interested in reading more on adaptive fashion)
Faudma's Fellowship who recently gave a designer an opportunity to create a collection for London Fashion Week especially designed for seated wearers.
Accidentally Adaptive Instagram account from Abilitee Adaptive Wear
Tommy Adaptive range from Tommy Hilfiger, with features like "magnetic button closures, velcro openings and internal toggles,".
Zoë's Instagram where they (an ambulatory wheelchair user) often discuss adaptive fashion and personal style.
Aaron Rose Philip's Instagram, as an example of a disabled person modelling Vogue and for the likes of Calvin Klein.
Alex Dacy's "Wheelchair Rapunzel" Instagram account. Alex talks about "disability justice, body confidence, and intimacy"
A blog post on SewBusty.com by Lollie (@lolieya on Instagram) on how to take seated measurements when planning to make (or have someone else make!) trousers when you spend more time seated than standing (as the fit requirements differ!)
I'm going to finish off by dropping a link in for Able Zine as I know there will be a million people and initiatives I've left out of these suggestions, and they're one of my favourite platforms for finding creative (and stylish!) disabled people to learn about.