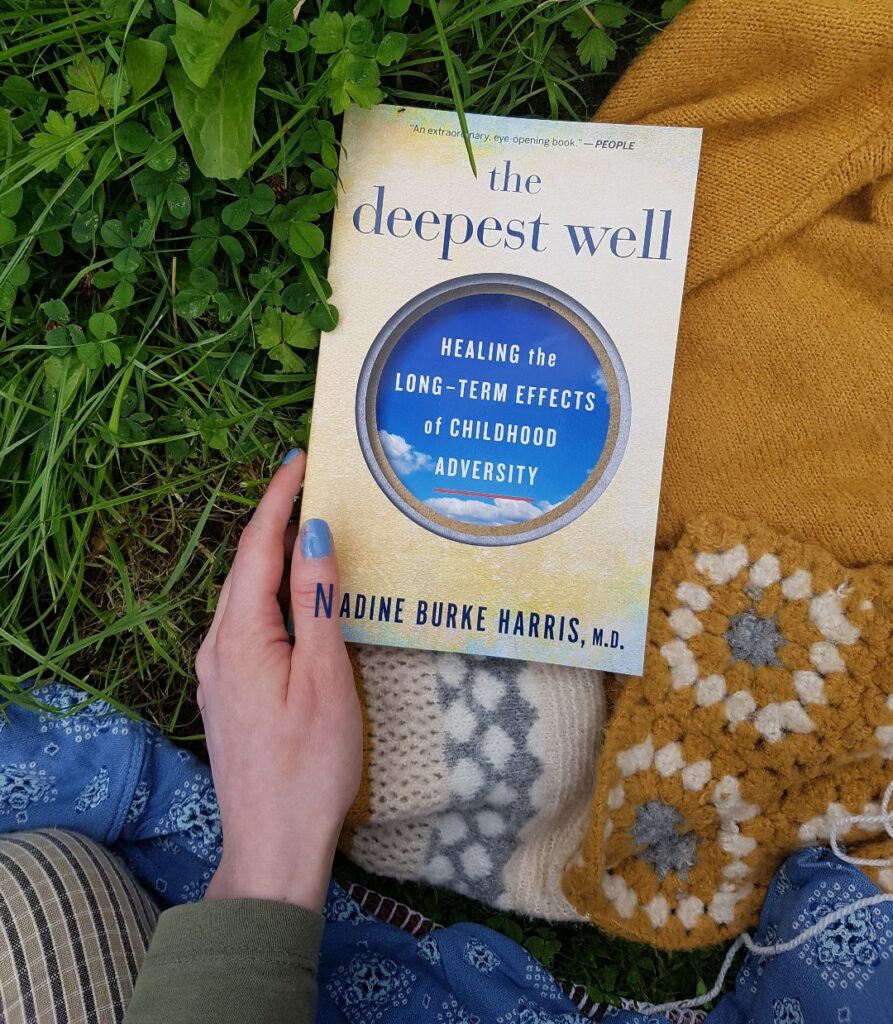 A few months ago, flicking through a recommended reading list on Instagram, the deepest well by Nadine Burke Harris drew me in. Its tagline "healing the long-term effects of childhood adversity" promised answers to questions I've been asking myself more and more in recent years. As the tagline suggests, this is a book about how traumatic events and circumstances in childhood, go on to affect us throughout our lives on a biological level, how this leads to one generation's traumas being passed onto the next and, crucially, how to minimise these effects.
If you'd like this post read aloud, please click here (a google drive folder will open in a new tab/app. Sometimes it asks you to download the file before it will play but this is easily done. Do let me know if you encounter any issues).
The book began with a standard disclaimer of names having been changed to protect the identities of those in case studies, followed by a short chapter featuring the story of one man who -despite having no obvious risk factors and being in his early 40s- woke up one morning having a stroke. This set me up to expect a book of similar case studies, of examples written up and then explained by a detached medical professional. In my opinion, the reality of the book is much better than that. The author tells her story along with everyone else's, the human element of piecing together the puzzles beneath a "public health crisis", returning to the stories of patients she saw as small children then later as teenagers, into the years of young adulthood. She features medical terminology alongside analogies which explain everything and avoid the need of a medical degree for anything to make sense.
An introduction to the author
Books aren't cheap so I googled the author before buying and found her Ted talk from 2015. It's an excellent introduction to the themes of the book, her work and the way she conveys her points. (There are subtitles in a wide range of languages including English). I thought it important to include here, especially for anyone who is unable to access the book.
(click here if you want to open the video in youtube/a new tab) -You can also google or YouTube search her name and find more (sometimes longer) talks, though this is the only one I've watched and can recommend!
Further thoughts on the content of the book:
Nadine Burke Harris paints this incredible picture of a world where we don't continue to pass on so much of our trauma from generation to generation, where we are supported so we in turn can support each other. I cried in one section which highlighted this, how possible it all is, how certain research and centres like hers are leading us in the right direction… But it all requires funding and change across countless communities and professions, things which face a lot of resistance (something she explains facing often in the book).
I enjoyed how she mixes a wider perspective -focusing on change in systems and society as a whole- and close inspection of individuals. The wide focus provides context (that context often involving systemic failings) and makes sense of how we got here without blaming families themselves for the adversity they face. Then the individual stories bring the effects home and give evidence of how people's lives can be changed for the better. As well as offering immediate help to the reader. How? By giving better understanding of the ways in which our pasts affect us every day, from why one person finds it difficult to focus on their work to why another struggles in their mental health or relationship with food (edit: on this note, I neglected to say the book does reference weight gain (and weight loss programs) in the context of connections between compulsive eating & adverse childhood experiences).
And, most importantly to me, that word in the tagline: healing. This is a book about making people feel better. A book about healing people across schools, cities and countries, down to individuals and their families.
A key concept she focuses on is the idea of care givers as emotional "buffers" for children, helping to keep their responses to stressful situations at a healthy level. If these care givers aren't properly supported or have their own unaddressed traumas hanging about, this "buffering" doesn't work. You can imagine how this is both a private family issue and a wider problem in health, social care and political decision making.

As for difficulty in reading…
It's not comparable to any light novel picked up for escapism. I gave up attempts to absorb all the medical details or keep track of which "Dr SoandSo" was which. But it's no academic textbook either. Focus on the explanations/analogies rather than the medical terminology (an approach Dr Burke Harris totally encourages by hinting at previously used metaphors in brackets, after she uses a medical term, to make sure everyone knows what she's talking about) and it'll be day-to-day reader friendly. As someone with fatigue and cognitive difficulties I had to take it slowly. But if your abilities extend to non fiction reading and you take it easy, this one will be kind to you. Especially since her tone is so friendly throughout. (And hey, it's also available in audio book format)
Given the subject matter, this book is one big page fluttering content warning for discussion of traumatic life experiences. However it's always constructive and never unnecessarily dramatised. Personally, I found her descriptions of a "disregulated stress response" and the ways we can heal ourselves comforting, even a source of hope. There were moments when I winced from a disabled perspective, at how certain health outcomes are automatically framed as negative and undesirable… But that's mostly a result of having read snippets of Crip theory just before starting this book (more on that some other time).
Final Thoughts?
The reading list I found this on was one sharing books relating to systemic inequalities and racism in medicine and healthcare. She summarises perfectly the way childhood adversity affects everyone, but that (as with so many things) there are disproportionate effects on poor, often Black communities receiving little appropriate support. If you've ever seen those tweets about the trauma of slavery being passed down epigenetically through families, and wondered what is behind those statements, this is the book for you.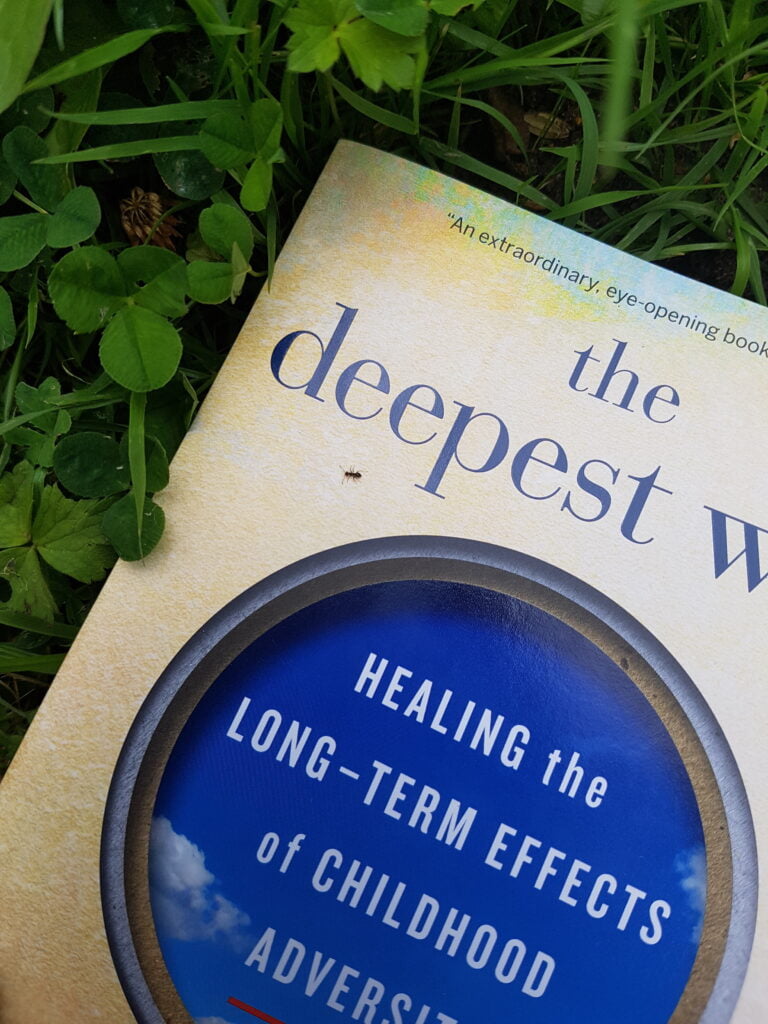 I couldn't recommend it more highly, from the perspective of someone with no medical background and a lot of cognitive frazzlement to deal with, it was well worth it. While I'm aware access to mental health services are a massive issue, I can imagine this book encouraging people to seek counselling, or at least to re-evaluate the importance of caring for ourselves and respecting the impact of our pasts, so we can stabilise ourselves and our families in the present. This book also gives us an understanding -without placing blame on individuals- of how situations become toxic for our health, so we might be a little less inclined to blame and bully ourselves, and a little more able to heal.
Until next time, I hope you are as intrigued by Dr Burke Harris' work as I have been!
-Sakara.